The latest Builders Merchant Building Index (BMBI) report reveals that builders' merchants' value sales were virtually flat (+0.2%) in July 2022 compared to the same month in 2021. As in previous months, volume sales were down (-12.8%) yet price inflation remained high (+15.0%).
Ten of the twelve categories sold more in July 2022 compared to the previous year, including nine which outperformed Merchants overall. Renewables & Water Saving (+25.5%) Workwear & Safetywear (+20.2%), Kitchens & Bathrooms (+13.1%) and Plumbing, Heating & Electrical (+10.7%) did best. Only Landscaping (-4.6%) and Timber & Joinery Products (-14.4%) sold less.
Compared to July 2019, a more normal pre-pandemic year, total merchant value sales were +13.3% higher. With two less trading days this year, like-for-like sales were up +24.1%. Three categories did better than total Merchants: Timber & Joinery Products (+23.8%), Renewables & Water Saving (+18.6%) and Landscaping (+17.7%). Heavy Building Materials (+12.3%), Kitchens & Bathrooms (+11.3%) and Plumbing, Heating & Electrical (+2.9%) all grew more slowly.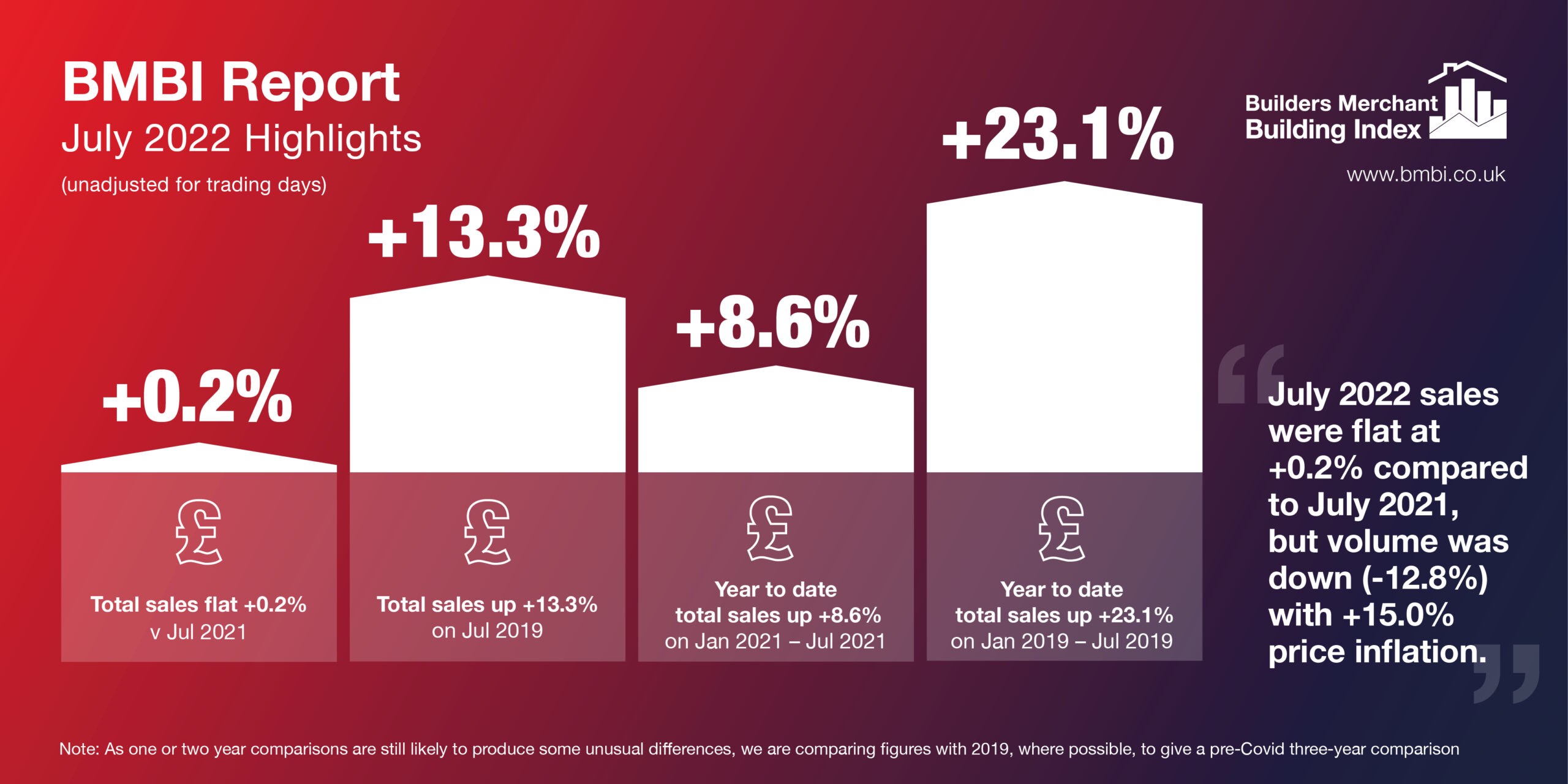 Month-on-month, total merchant sales were down -2.6% in July compared to June 2022. Volume sales were down -5.2%. Prices rose +2.7%. With one more trading day in the most recent period, like-for-like sales were -7.3% lower. Renewables & Water Saving (+4.8%) was the strongest category month-on-month; Landscaping (-9.1%) was weakest.
Mike Rigby, CEO of MRA Research which produces this report, said: "A flat July was probably to be expected by Merchants, as the construction sector was hampered by everything from lost working days due to the exceptionally hot weather to the cost of living crisis' having a continued impact on consumer spending – particularly in the repair, maintenance and improvement market. Even the proper return of holidays abroad will have impacted the volume of building work completed over the summer months.
"But looking ahead there is cause for optimism. With a new Prime Minister now in post and plans afoot to tackle the energy crisis, we may start to see material prices come down moderate later in the year and a return to volume driven growth. This may be the kick the construction industry needs to get back on an upward trajectory as we head into winter."
Developed and run by MRA Research, the BMBI – a brand of the Builders Merchants Federation – is a monthly index of builders' merchant sales, and the most reliable, up-to-date measure of Repair, Maintenance, and Improvement (RMI) activity in the UK. The index is based on actual sales from GfK's Builders' Merchant Point of Sale Tracking Data, which captures value sales out to builders from generalist builders' merchants, accounting for over 80% of total sales from builders' merchants throughout Great Britain. An in-depth review, which includes commentary by sector experts, is provided each quarter.
July's BMBI report, published in September, is available to download at www.bmbi.co.uk.