The latest Builders Merchants Building Index (BMBI) report, published in April, shows that value sales to builders and contractors by Britain's builders' merchants in February were 2.3% higher than in February 2020, with no difference in trading days.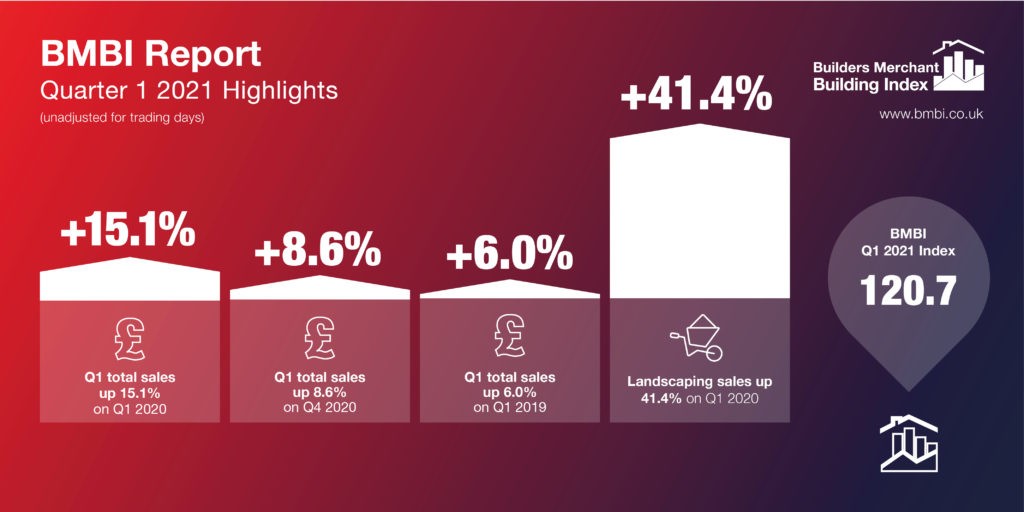 Year-on-year
Only three of the twelve categories sold more in February 2021 compared to February 2020. Overall growth was driven by a particularly strong performance in sales of Timber & Joinery Products (+18.2%). The other categories with higher sales were Landscaping (+8.6%) and Tools (+2.0%). Indoor trades continue to be impacted by the latest lockdown, with Kitchens & Bathrooms (-8.6%), Decorating (-8.4%) and Plumbing Heating & Electrical (-3.6%) all seeing lower sales this year.
Last three months
Total sales in the last three months (December 2020 to February 2021) were 1.8% higher than in December 2019 to February 2020, on an equal number of trading days. Timber & Joinery Products (+14.8%) and Landscaping (+11.0%) were the top performing categories.
Month-on-Month
Total Merchants' sales in February 2021 were 8.6% higher than in January, with no difference in trading days. The Landscaping category did best (+24.1%), followed by Kitchens & Bathrooms, Decorating and Tools.
Index
February's BMBI index was 109.4. Timber & Joinery Products was the strongest at 128.8, followed by Plumbing Heating & Electrical (120.3).
Derrick McFarland, Managing Director Keystone Lintels and BMBI's Expert for Steel Lintels, comments: "We have to be thankful that the construction sector has remained open, in what have been very distressing times for many loved ones, and very challenging times managing social distancing and positives tests at places of work. This remains a challenge in 2021.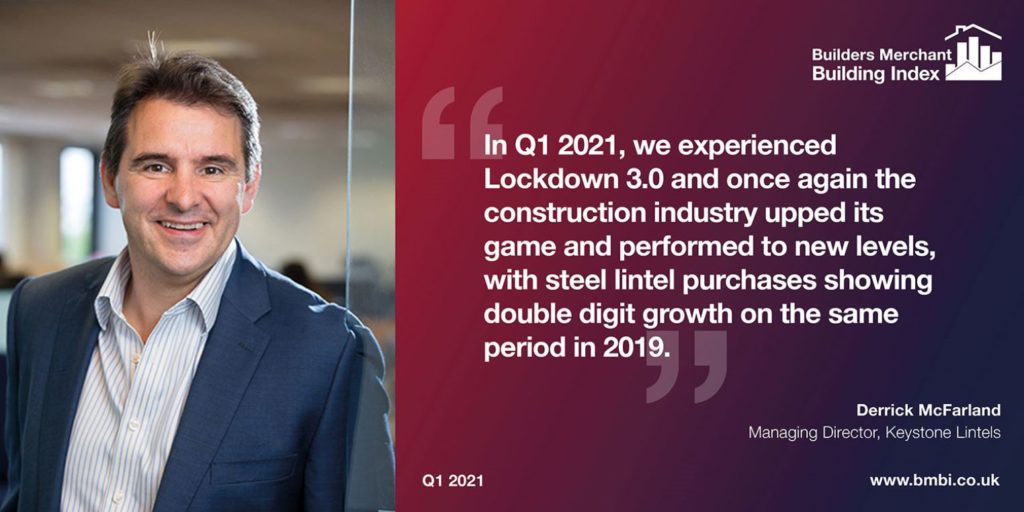 "We are seeing the raw material steel prices for steel lintels increase at rates never seen before, and the future market shows no sign of this receding. This is not necessarily a result of Brexit but is more linked to production cuts in 2020 driven by worldwide lockdowns in response to Covid. We remain watchful on availability, specifically in relation to the levels of steel production across Europe and steel demand.
"Hi-thermal performing lintels with accreditation are the future. At last the new building regulations have been agreed with Part L requiring a 31% improvement in CO2 targets. Critically for the environment, 'Fabric First' remains the acknowledged improvement strategy.
"Fabric First means improving the fabric of the building first before reaching for costlier and less efficient solutions. This is due to be implemented in June 2022, and any plot with current regulations not 'started' within one year will need to be updated to the new building regulations.
"With tighter quality control requirements from Building Control, we expect the larger sites will switch quicker than we have previously experienced."