Relationships, Service, Fun and Flexibility are key to sales growth for EH Smith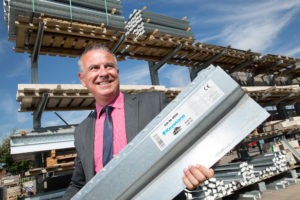 Independent Retailers Month is the perfect opportunity to shine a spotlight on the Independent Merchants who stock Keystone Group products and celebrate the valued relationship we have with our merchants.
We spoke with Darren Moles the Commercial Director at EH Smith, one of the largest independent builders merchants in the UK about the business and their experience of working with the Keystone Group.
Tell us a bit about your business?
EH Smith was established in 1922 and remains one of the largest independent builders merchants in the UK.  We are still a family run business employing almost 400 members of staff across a network of 11 branches in the Midlands and South East.  We specialise in bricks, timber, civils, landscaping and now kitchens and bathrooms.
We believe we were one of Keystone's very first customers in England back in 1993, so they have shared in our growth and remain an important part of our business.
What are EH Smith's Recent Successes? 
Most recently, we rolled out our re-modelled trade counters as part of a plan to enhance the customers' in branch experience with the aim to increase footfall and sales of collected products. This proved to be highly successful with an increase of over 30% in "collected sales" across the branches.
Another success has been the launch of our first kitchen and bathroom showroom in Solihull, which won an award as showroom of the year. We now offer CAD designs to help visualise the finished projects for customers. We have also achieved Gold in the ROSPA Health and Safety Awards for nine years running.
How does EH Smith differ from other merchants? 
EH Smith provides quality service, believing the customer is king with knowledgeable long standing staff and our exceptional next day delivery service on a variety of vehicle options including Moffets. More than 25 members of staff now have 30+ years of service with EH Smith. Many of our current Branch Managers have been through either our trainee or personnel development schemes . We are open to both the DIY and trade, offering them a range of additional specialist services including Extensive Brick range and a full matching and sampling service, Porotherm, Timber cutting and Milling and our New Business Development team who concentrate on new account applications ensuring they trade with us immediately.
How do you rate The Keystone Group? 
We have a fantastic relationship with the Keystone Group who lead from the top with the senior directors showing desire to get involved at the sharp end of the trade. Most of our branches are now solus stockists of Keystone Lintels and Keylite Roof Windows. Both sides of the business are extremely professional with a pro-active local external sales team and extremely helpful and knowledgeable technical support.
How important is training for counter staff? 
Our trade counter teams have received extensive training on both Lintels and Roof Windows including the unique new window features. Also, our sales staff have benefited greatly from training days at Keystone's impressive presentation facilities at Swadlincote.
What do Keystone do well?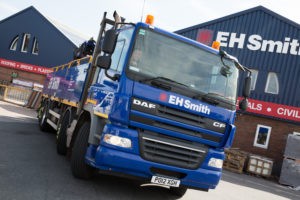 Keystone is a very proactive supplier. We take regular feedback from our Branch Managers on all suppliers and this is always positive regarding Keystone and particularly important for lintel products. I have already mentioned training and of course most importantly their product quality and reliability, product complaints for Keystone are unheard of.
What do you think of the support from Keystone Lintels and Keylite Roof Windows?
The reps from Keystone and EH Smith have regular days out and sometimes both sales forces join up to target an area around one of our depots. These blitz days always produce new leads and considerable orders for lintels and roof windows.
"Keystone and EH Smith are both innovative family businesses where relationships, service, fun and flexibility are key to sales growth in the future."