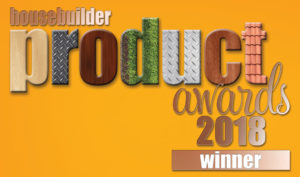 Keystone Lintels is delighted to have won the 'Best Building Fabric Product' award at the 2018 Housebuilder Product Awards for the Hi-therm+ Lintel.
The Hi-therm lintel has been upgraded to offer even greater practicality to builders. Keystone has invested heavily in R&D to re-engineer the Hi-therm lintel utilising our industry leading 'top hat' design. The new Hi-therm+ lintel offers a low cost solution to reduced carbon emissions and is even easier to handle on site.
Keystone Lintels MD Derrick McFarland commented: "Keystone recognises the challenges facing house builders in relation to the increasingly demanding regulatory controls on thermal performance and sustainability. We recognise that a fabric first solution is preferable to builders, particularly something that is easily installed, maintenance-free and can allow them to design with 100mm cavities to ensure maximum floor space in developments. We are therefore proud to have been recognised for our commitment to the Fabric First approach. Our original Hi-therm Lintel won this award in 2013 and 2014 so for our innovative new design to be recognised again is fantastic".
As winners of a Housebuilder Product Award, Hi-therm + Lintels automatically become a finalist in the overall 'Product of the Year' category at the Housebuilder Awards 2018 which will be held at a prestigious black tie evening event on Thursday 1 November 2018 at the InterContinental London – The O2.