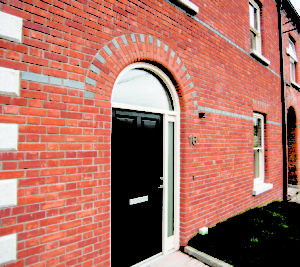 Innovation in materials and manufacturing has enabled Keystone to provide complex brick detailing with offsite quality. The Keyslip range allows house builders to explore intricate brick features with the simplicity of a one-piece solution that can be consistently reproduced across developments. Best of all, this can be done in a cost effective way, adding profitability for the builder.
Keystone Lintels offers a technically advanced, offsite solution for an extensive range of brick slip installations including arches, panels, soffits and architectural features. The Keyslip Brick Details range, which consists of Brick Feature Lintels and Lightweight Brick Headers and Sills, enables intricate brickwork detail to be carried out in a factory controlled environment. Offering a bespoke design service, Keystone's engineers use their technical expertise to develop unique solutions for complicated brickwork over openings.
Every product in the Keyslip range is manufactured to order, ensuring that each individual unit is customised according to the unique size, shape and aesthetic requirements of the project. The range is applicable to both traditional and contemporary builds and provides the flexibility that is so important to house builders. Derrick McFarland, Managing Director for Keystone Lintels, explains:
"The Keyslip range provides a unique way for builders and contractors to enhance the quality of their brickwork detailing, at a time when skills are acknowledged to be in short supply onsite. These products utilise a highly labour efficient production technique, the result of which is a superior quality finish. This corresponds with a strong use of brick by architects and developers, both of whom require high quality finishes. Ranging from simple lightweight brick headers to highly intricate arches and ornate brickwork over openings, the Keyslip range provides a solution to a variety of brickwork requirements."
A Site Manager's Perspective
The time saving aspect of the product is perhaps the greatest benefit, as Tony Sanders of Gilbert Ash explains:
"It would have been a time consuming task to construct the corbelled arch onsite, whereas Keystone streamlined the process with their offsite solution. It really suited the pace of construction and looked great."
Offsite Quality
Each Keyslip unit is produced using bricks from the same batch as those laid onsite. Factory controlled conditions offer a greater deal of certainty for the visual quality compared to brickwork built onsite. The brick collected from site is then tailored to suit the client's design and fixed to Keystone's structural steel elements. Keyslip components eliminate the need for a specialist brickwork contractor spending hours onsite, cutting bricks to suit complicated structural openings. The finished Brick Feature Lintel joins seamlessly with the brickwork constructed onsite.
Keystone's patented design uses a BBA certified adhesive which interacts with a perforated steel backing plate forming a strong mechanical bond with the brick slips. The bonding process occurs in optimum controlled conditions free from wet weather, extreme temperature and excessive dust.
Find out more about Keyslip on the Keyslip page or check out some of our Keyslip Case Studies.