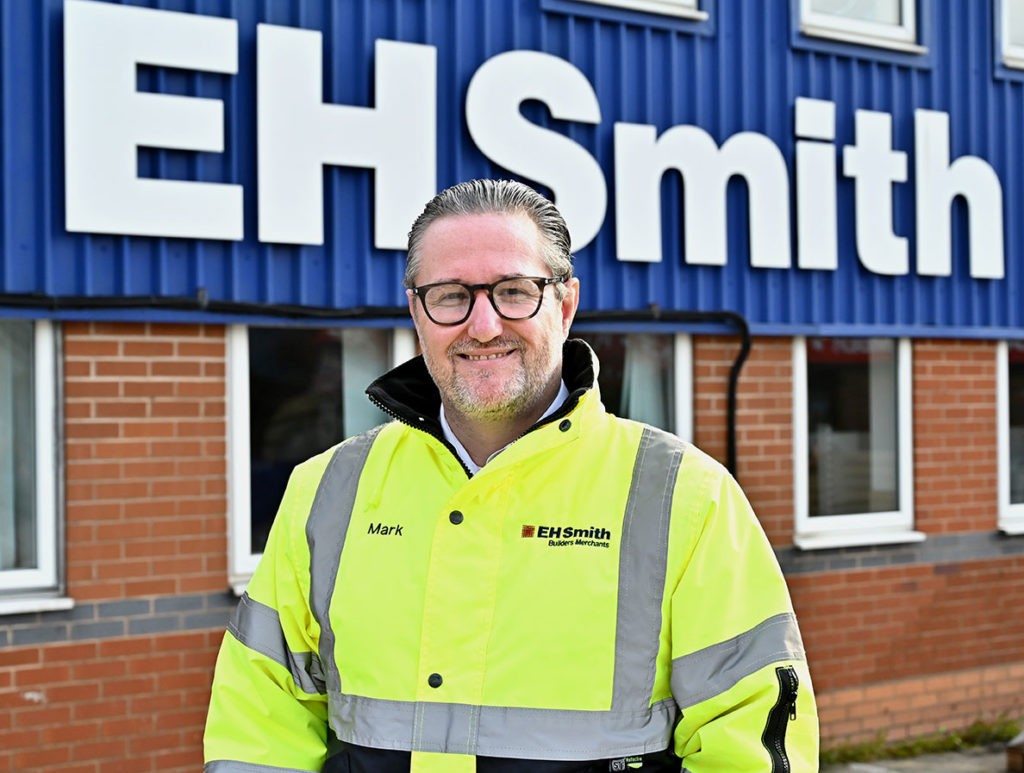 Mark Setchell took up the reigns as Managing Director of EH Smith Builders' Merchants just as the pandemic took hold. He looks back on a year of change, challenge… and achievement.
Tell us about your first year at the helm of EH Smith? What have been your major achievements?
It's fair to say that my introduction to the business was a little unconventional! All our branches were closed, and we were unsure when we would re-open. At the same time, I was trying to meet as many new colleagues over Microsoft Teams as possible, while securing our ongoing viability as a business and presenting our new financial year budget. It really was a baptism of fire!
Fortunately, the building materials market was being spared the downturn that was widely predicted, and the challenge became about coping with customer demand. It has been the commitment and can-do attitude from every single member of staff, working together during very challenging times that has given me the most pride. We have continued to invest throughout the year; we opened two new branches – our K&B showroom in Henley-In-Arden and our London Design Centre in Clerkenwell. There was an influx of new HGVs and tipper trucks to add to our busy delivery fleet and we saw many of our trainees successfully complete their courses – which on top of a demanding day job takes incredible commitment and determination.
In summary, it's been a year like no other. During this period of constant change, the priority was to keep our colleagues, customers and suppliers safe, and in that respect, I think that has been EH Smith's greatest achievement. In addition, we have been working on new Payroll and HR software projects and a new trading website. Our Charitable Trust has also continued to support local community initiatives and charities and we are very proud that in July we had supported over 500 projects since 2017… so you could say it's been a very eventful but rewarding 16 months!
EH Smith celebrates its centenary in 2022. How does the company plan to commemorate this great achievement?
Reaching our 100 year anniversary is such a great milestone for a family run company, and after all the restrictions, we are keeping our fingers crossed that we are able to celebrate properly. We have a busy calendar of events spanning the whole year, which range from a company-wide evening gala dinner and family fun day to customer and supplier events and our ongoing support for local charities and community groups.
What challenges has EH Smith faced over the last 18 months and how have you worked with suppliers to overcome these challenges?
Like every other merchant, we've faced the same sleepless nights over the impact of the global pandemic, cost inflations and product shortages. In each of our key product categories we have dedicated personnel working closely with the suppliers to ensure we are aware of any allocation or price increase notifications. Creating a clear circle of communication between suppliers, colleagues and customers has been imperative and has meant we have been able to react accordingly whilst continuing to serve our customers.
What does Keystone offer you as a supplier and how is this relationship different?
We have worked with Keystone for many years from the early days of their entry into the UK market, resulting in a solid, transparent partnership. Their ethos and principles as a company are aligned to those of EH Smith always striving to put the customer first.
Over the years Keystone and EH Smith have built a very collaborative way of working; their field team has worked hard to create great relationships with our branch network and their head office is in constant communication with our Commercial Team, ensuring we are aware of any changes or issues on the horizon. Above all, it is the positive 'always willing to help' attitude of Keystone that sets them apart from others and solidifies our supplier / merchant relationship.
How is EH Smith adapting to the opportunities presented online and how does this impact traditional merchanting?
The 2020 lockdown highlighted that there was definitely a need for a better online presence. In order to re-open safely, we changed our collection service by adapting our website and branches to implement our version of a 'Click and Collect' service. This proved to be very popular and prompted conversations regarding our current online offering.
Whilst we acknowledge we are probably a little behind the times in not having an e-commerce site, we began the process of planning and developing a new trading site late last year. We're excited that the new website will be able to offer an additional service to our customers with the added capability of checking real time stock and pricing and the ability for our customers to log in and manage their account, which will add to our company values of offering great service.
What is your outlook for the remainder of the year into 2022?
I'm very positive about future trading! Our year starts in July and the first two months have been positive and ahead of expectation. I believe customer sentiment in our market remains positive and I don't foresee this changing dramatically in the short to medium term. Keeping up with demand will obviously be one of our biggest challenges over the next 12 months, ensuring we are not putting too much pressure on our workforce. With this in mind, we have recently recruited over 40 new members of staff across the business with a new intake of trainees and apprentices to build our available skill set for the years ahead.
All in all, we look forward to a positive end to 2021 and an exciting 2022 celebrating our centenary.