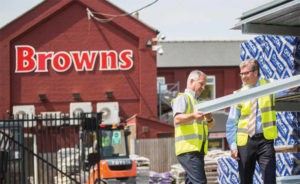 We ask Nick Oates and Jim Parlato from National Buying Group (NBG) for an insight on the buying group in 2018
What does an independent merchant gain from its NBG membership?
NO: Primarily we are a buying group so they will gain excellent buying terms but also we are a partnership of 83 independents, so you are joining a very knowledgeable community.
We are very open and it's actually a requirement that members share information. For example Jim is a heavy site specialist and he brings that expert knowledge to NBG by sitting on both the brick and our general build team. Lots of our other partners bring similar sets of expert knowledge, so we have plumbing, roofing, civils specialists etc. and that enables us to learn from each other and grow their business.
JP: The best decision we have ever made was to join NBG. Obviously we joined to buy more competitively, but it's not just about the buying. If I'm looking for an ICT system I'll lift the phone to 4 or 5 partners and ask, what are you running? Invariably one of them will invite me over to come and have a look and spend the day with them, it's that sort of stuff that is invaluable.
NO: We also get access to a very strong set of brands and we have built long relationships with these suppliers, so when the going gets tough, they support us. NBG have a very good track record of performing for its suppliers, on volume and supporting deals. That loyalty is reflected when there are shortages; bricks and block etc. we get more than our fair share.
What has changed in the independent sector since NBG started in 2003?
NO: Online trading is the obvious answer and I think that's going to accelerate further, but on the other hand merchanting is still about doing the basics really well. It is still all about having stock on the ground, servicing customers with good quality, knowledgeable staff. A recent customer survey by an NBG member revealed that the quality of their counter staff was the main differentiator for their business.Customers often rely on counter staff to get them out of a hole and it's at times like this when you make a difference. Independents have that flexibility and speed of response, they have the creativity to find the solutions where other national businesses don't.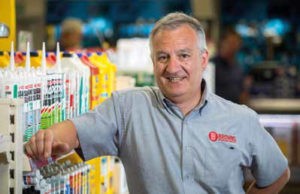 What are the key challenges that independent merchants will face in the next 15 years?
JP: We can't ignore online trading and e-commerce, which is definitely going to be an issue because the likes of amazon will find a way to sell building products.
NO: Merchants are going to have to take costs out and the use of electronic ordering, electronic trading of all sorts is going to be the norm rather than the exception. Manufacturers also need to invest to meet the expected growth in demand and ensure they have enough capacity to enable merchants to supply the market because we are having issues with supply on things like bricks, blocks, roof tiles and timber.
Along with other NBG Merchants, Browns forged a highly successful partnership with the Keystone Group. Why is this partnership particularly successful?
JP: Working with Keystone has been very positive for our business, it's a brand we can rely on and it's very easy to work with you guys because we understand each other. On the sales side, any problems are resolved very quickly and we take advantage of turning your sales leads into orders from the national housebuilders down. Technical support is excellent and you employ the right people, we are just converting some housebuilders to Hi-therm+ lintels and it's all pretty seamless.
NO: NBG has always been strong on sales with Keystone and I would say we have always been well ahead of the market with you, so it works and you have a good brand and are always bringing new products to the market.
The theme for this year's NBG conference is 'building strong brands', explain what this means to members and suppliers.
We wanted this theme because it covers both suppliers and the merchant. The great benefit of an independent merchant is the strength of their own brand in their local community. They have to provide great support if they want a good name and the brand value that you get from that is incredibly important. Equally we recognise that manufacturers invest huge amount of money in their products, branding and innovation and we think that it is really important that we are together in that journey in bringing new products to the market, so we are all brand ambassadors.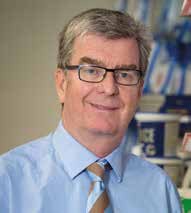 Is online trading a threat to the traditional merchant and do the NBG intend to capitalise on it?
Obviously you need to have a website to give yourself a presence so I think we need to embrace online sales, but equally we don't want to use it to drive down our pricing and margins to nothing. So I think it is a vehicle for advertising, improving sales and reaching an audience that will probably only buy online and maybe won't go and visit branches and stores
There are a growing number of manufacturers who are selling direct to builders; is this a concern to the NBG?
Yes, you're either on the same team or you're not! I think manufacturers need to build online models that support their merchants to be successful in every market place. If manufacturers set themselves up to cut merchants out by going direct then I'm sorry but I can see NBG taking a really tough view on that.
NBG members came close to a merge with another buying group in 2017. Do you think a similar opportunity will rise in the near future?
NO: I think the board of NBG will always be looking at potential new opportunities, we want to be innovative and to remain at the leading edge of the industry. We regard ourselves as the premier buying group for independent builder's and plumber's merchants so it is important that we are always open to new ideas. Two things set NBG apart. Firstly, we have a strong culture of supporting our supplier deals, so any partnership needs to have that at its core. Secondly, we have very high quality merchants so it's important that we maintain and build on that.
What is different about NBG?
NO: We have a real focus on internal systems and at our core is our new intranet, which we call The Hub. We believe it is industry leading and ensures efficiency in our communication with our partners and suppliers. It is also how we manage our rebate and distribute our payments so we invest a lot of time ensuring that the system is outstanding.
What's next for the NBG?
NO: We are working on the roll out of the account management system. It requires suppliers to submit sales plans so that's a change not just in terms or writing the plans but also a change culturally. We want to move forward on joint plans that will help us both to achieve greater success. There is still plenty of opportunity for NBG going forward and we have an aspiration to be the premier buying group so we need to make sure we keep doing the basics well.