Can merchanting be fun? County Building Supplies' Martyn Rees claims they've built a business on it!
Tell me a little bit about County Building Supplies.
County Building Supplies hit 30 in July this year and began with myself, David Lloyd and Steve Prince, who is now our Transport Manager. We started in Malvern where the three of us are still based. We soon opened branches in Evesham and Cheltenham managed by people we knew. Eventually, branches followed in Droitwich, Nuneaton, Coventry and then Monmouth. Our latest expansion is a new Plumbing and Heating branch soon to open in Cheltenham.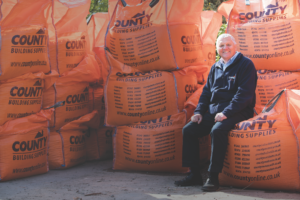 County Building Supplies joined NBG which has been a fantastic help, not only for the buying power but for the support from their staff and information services which we can access. I wouldn't like to be an independent merchant operating on my own these days because without similar support I think it would be very difficult and isolating.
Above all we have fun, it is so central to what we do. We are the happiest builders merchants in the world – in fact it's been our motto since 1987 – we like to have a laugh! We find that if people are happy at their work then that builds staff loyalty. Our average length of service at the moment is 17 years.
Everyone gets on really well and I firmly believe in treating people how you would like to be treated yourself. We had a stand at the Spring Garden Show in Malvern about 15 years ago and an elderly couple came up to us from the side, so they hadn't seen our name on the stand. They asked which company we were from and when I said County Building Supplies they replied 'Oh, you're our friends!' I've always remembered that.
Do you compete for non-trade business?
We saw an opportunity to diversify and bought a garden machinery business. This proved to be very beneficial as it brings a lot of public through the door which is half the battle. I think a lot of people are afraid of buying from builders merchants because the public feel more in their comfort zone by visiting a retailer like B&Q. Our latest venture is a new renewables centre in Cheltenham which is a very exciting time for us. We would love to make it available for training for local companies; architects, for example, who would benefit from its use. We have 8 suppliers who wish to use this facility as a training centre and we are delighted to be able to offer them this opportunity.
What's your view on supply agreements?
I would say the longer the better, assuming of course that the supplier is performing. It gives the supplier the opportunity to invest in promoting their brand locally and build strong relationships with trade in the area. Likewise, we find our customers like stability of supply and are not keen on constant chopping and changing, particularly on products where technical specifications are important.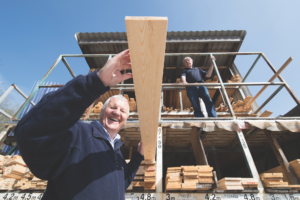 What has made County Building Supplies such a success?
It's us, it's the people. Honestly, we have the best team we have ever had. We enjoy working here, we have fun. If you can't enjoy working here there's something wrong – we have built a business where everyone enjoys coming to work. Some of the guys call me Dad, I call them son. Some of them were just lads when they started. Our Operations Director started as a Saturday boy 23 years ago when he was 17. I also think business needs to be a challenge; it's about looking for new ways to grow the business and that gives us a kick, which is about much more than just making money. I think you need to have pride in what you do and the team you build.
How do you differ from other merchants?
Did I mention we're more fun, much more fun! I believe we're more knowledgeable and engage with our customers more than an average builders' merchant. It's very rare that we do not get the product that the customer wants, no matter how obscure the request. Even if we have to pay for something on a credit card and then pass the cost on to the customer we will do it. We will do it purely as a service, but we enjoy the challenge and we like to go the extra mile for the customer. It would be very boring if we were just selling bricks and blocks all the time.
How strong is your relationship with The Keystone Group?
Our relationship with The Keystone Group has been fantastic. We have found many of the sales managers to be very helpful in coming up with ideas to help us, as a merchant, to get the most out of the products we sell, which is most important. They have been a delight to deal with. I genuinely like their attitude to customers. They are a big company but they act as if we count, and that can't be said for every supplier of building materials. Keystone is a company made up of helpful people and we like that! Everyone is so approachable, right from the top of the tree downwards. I remember one of the first NBG conferences, Keystone did a presentation in the form of a quiz – it was absolutely hilarious. It was the best presentation we have had from any supplier.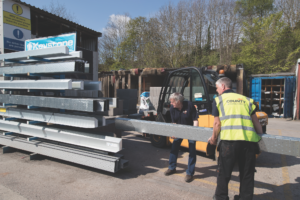 What is your experience in selling Keystone Group products?
Good communications with any supplier is vital and with steel lintels it's important to get good technical back up because at the end of the day, they are a technical product and Keystone has invested in a phenomenal technical support team of engineers which makes our job easier.
Obviously, a delivery service that turns up when promised and a quick turnaround on specials orders compared to the competition is also a big part of why it's easy to sell Keystone products. On the rare occasion that issues do occur they are sorted very quickly – we've always managed to get hold of our rep easily.
What role do your counter staff play in selling products?
The counter staff are a valuable sales asset because they have been with us so long and have built up a great deal of knowledge about the Keystone products. The guys are really good at ensuring the customers get exactly the right products. They also know they will get the back up from the team at Swadlincote if they don't have the answer to a question.
Because we are loyal NBG members we only stock listed products so our counter staff don't have to recommend Keystone over any other products. In fact, apart from our aggregates which we buy locally, there won't be any products found in our yard that aren't NBG products.
How are you celebrating your 30th birthday and what's next for County?
We've had some big promotions running to thank all of our customers who have been so loyal to us over the years. Beyond that we want to expand more and have more fun!
Find out more about County Building Supplies: countyonline.co.uk