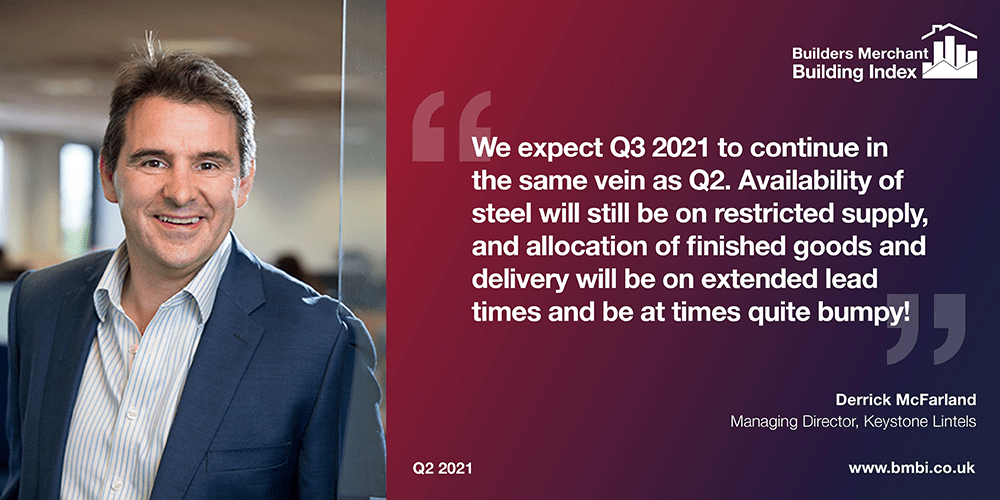 Derrick McFarland, Managing Director Keystone Lintels is BMBI's Expert for Steel Lintels.
The house building sector plays a key role in supporting the economic recovery. However, as demand has increased, supply constraints are pushing up price inflation. House price rises, temporarily fuelled by stamp duty cuts, will see the speed of growth slow but stay strong. The imbalance of demand versus new properties coming to market will keep house prices high in the coming months. While positive, we should be concerned about escalating material and labour costs, which may have a huge impact on the continuation of planned projects.
Since last autumn, current steel shortages have severely restricted the volumes of steel lintels available to the market. Having said this, we can report that in Q2 2021 Keystone delivered volumes in line with those in the same period during 2019, although supply may not have been as smooth as it was before the pandemic. All businesses are having to manage stampeding demand, continuing risks of Covid-19, labour availability shortages, and staff deserving a well-earned staycation, or a trip to somewhere 'green'. Speaking for ourselves, Keystone has continued to enforce full Covid-19 precautions regardless of the government's guidance to ease restrictions.
We expect Q3 2021 to continue in the same vein as Q2. Availability of steel will still be on restricted supply, and allocation of finished goods and delivery will be on extended lead times and be at times quite bumpy! Prices will remain at historically high levels in the medium-term, and with other building materials having had further recent price increases, will steel prices rise again? Demand from heavy users of steel in the automotive sector is adding fuel to the fire.
On a very positive note, we can all focus on the sensible Fabric First approach which is championed by the Future Homes Standard. Innovation is one of Keystone's cornerstones and we are both excited and passionate about the de-carbonisation agenda.
"Since last autumn, current steel shortages have severely restricted the volumes of steel lintels available to the market. All businesses are having to manage stampeding demand, continuing risks of Covid-19, labour availability shortages, and staff deserving a well- earned staycation…"