Our Company
Keystone Lintels Limited is a leading manufacturer of steel lintels, founded in 1989. The short history of Keystone has been one of relentless expansion and continuous innovation whilst redefining the meaning of service in the lintel industry.
Production facilities in Derbyshire, England and Cookstown, Northern Ireland provide an efficient, flexible and ergonomic working environment, which is part of the culture of quality and service at Keystone.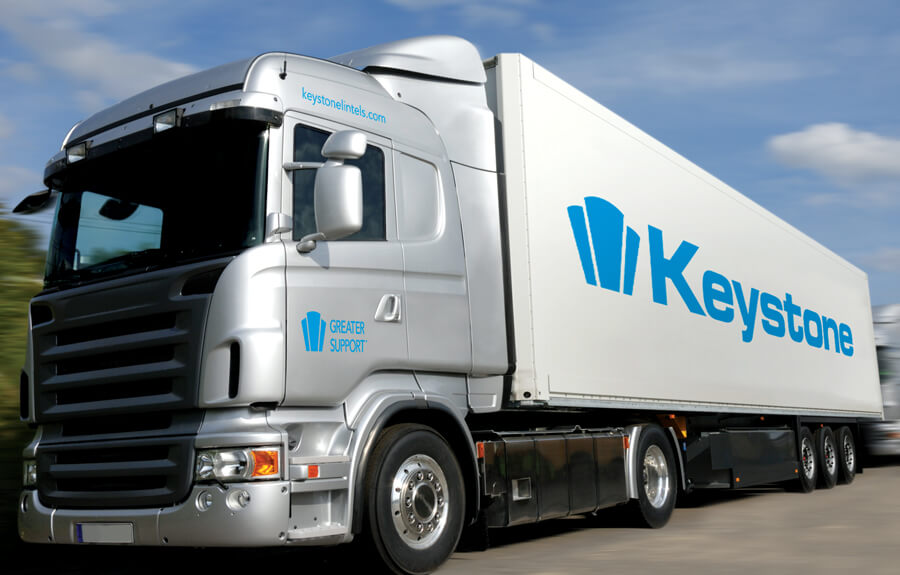 Keystone Core Values
Keystone is committed to core values that were embodied by its founders and remain the cornerstone of the corporate philosophy.
Safety
The Keystone Group is absolutely committed to providing and sustaining a safe working environment with safe equipment, safe working processes and a safety focused culture, resulting in zero harm to everyone, both on and off site.
Innovation
We empower and challenge each other to think differently, embrace creativity and develop products, services, and processes that are smarter than anything else in the market.
Fun
We love what we do and we love sharing the passion we have for the Keystone community. When we have fun at work, we are more productive, engaged and motivated to succeed. A business that has fun together, wins together!
Quality
We have a relentless focus on excellence in quality for every process in our business. We support each other to deliver solutions and services that are world class and add value to our customers.
Technical Expertise
At Keystone we never stop learning. Our specialist teams are on hand to provide the most cost effective solutions for the most complex requirements.
Commitment
Results matter. We go the extra mile and are committed to engaging with our customers, employees and communities every day to ensure we exceed expectations.
Mission Statement
Creating smart construction solutions beyond equal.
Keystone People
Keystone's most important asset is its people. Every employee undergoes training on our NVQ approved premises. We have also received the Investors In People accreditation.
Professional
Trained and Motivated
Accessible
Responsive
Extensive Product Knowledge
Company Resources
Keystone Company Resources
"Through quality of service and product we continue to increase the expectations of our clients and increase our market share as the No.1 lintel provider in the industry."
Keystone Vision
Keystone has a large professionally qualified team, operating from modern production facilities throughout the UK and Ireland. Keystone is proud to set the standard in lintel design, production and delivery service. With knowledge of our customers' ever-changing needs, we continually invest in specialist plant and equipment. Keystone also invests in professional training for employees to support and manage the business.
Keystone People
Keystone's success is a testament to our inventive, devoted and responsive personnel. Our employees engage actively in all areas of our business. Good ideas come from everywhere within the company. As a registered NVQ training centre, Keystone continually supports the development of employees, empowering our people to achieve more.
Keystone Plant and Equipment
Keystone, the industry leader, is quick to incorporate the most effective innovations in production, machinery and materials in our operation. Our Lintel Fabrication Division uses the must sophisticated computer controlled machinery available to guarantee consistent precision engineering and product quality.
Performance
Structural Performance
The Keystone Lintel range has safe working loads as detailed in each applicable loading table in our Lintel Guide brochure. The structural performance figures within each table have been ascertained by testing in accordance with the requirements of standards BS 5977 Part 2 1983 and BS EN 845-2:2003.
Corrosion Resistance
Keystone's standard range of lintels are manufactured from high quality grade pre-galvanised mild steel with a zinc coating of 600g/m² (including both sides). The 'hot dipped, pre-galvanising' process is carried out at the mill to ensure a more consistent quality of zinc coating. This guarantees a more effective, anti-corrosive system. Furthermore, pre-galvanised lintels are much more environmentally friendly than post galvanised lintels, and have a lower carbon footprint.
Fire Performance
Keystone lintels have been subjected to a fire test (ref: WARRES No. 101263) in accordance with BS 476:Part20: 1987, at Exova Warringtonfire and achieved a one hour fire performance.
Lintel Life Span
The Keystone lintel range complies with the technical requirements of the BLP (Building Life Plans) regarding the durability data of mild steel, cold formed lintels. The service life of Keystone lintels, when installed with a flexible DPC, will be the same as that anticipated for the building.
Bespoke Design
Custom Made Lintel Design Service
Ask for a Keystone Engineer to visit your site or office. We relish the opportunity to liaise with industry professionals on building projects, regardless of size.
Engineering experts designing bespoke lintel solutions.
Working with architects and designers on creative designs.
Infinite range of unique lintel support systems.
Technical Service
Our experienced engineers will provide lintel solutions for all your structural requirements. We provide a technical helpline for immediate answers to your lintel queries.
Rapid response technical advisory service.
Value engineered designs.
Always the optimum solution.
Personal consultation as standard.
Structural calculations provided.
IT user-friendly, electronic data transfer.
Free on-site consultation.