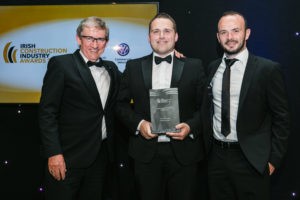 Keystone's Hi-therm+ Lintel has won 'Construction Product of the Year' at the 2018 Irish Construction Industry Awards.
Since launching in 2014, the Irish Construction Industry Awards has established itself as the benchmark for those demonstrating excellence and innovation in Ireland's construction Industry
The Hi-therm+ lintel offers a low cost solution to reduced carbon emissions and is up to five times more thermally efficient than a standard steel lintel.  Keystone has re-engineered its original Hi-therm lintel utilising its industry leading 'top hat' design to offer even greater practicality to builders.
Kris Willis, Keystone's National Sales Manager for Ireland collected the award at the glittering event which took place on Thursday 14th June in the Citywest Hotel in Dublin.
Kris commented: "At Keystone, we recognise the challenges facing builders in relation thermal performance and sustainability. A fabric first solution is preferable to builders, particularly something that is easily installed and maintenance-free and can allow them to meet regulations in a cost efficient way.  The use of Hi-therm+ with its low psi value will often negate the need for bolt on renewables saving money on the overall build.  We launched Hi-therm+ in January this year and are delighted to have achieved this accolade".
For more info on how Hi-therm+ can help you meet your building regulations click here
Photo Caption: Leo Harmon, JC & Director, Harmon Project Advise presents the Construction Product of the Year Award to Kris Willis & Stephen Quinn, Keystone Lintels.