Dennis Smith, President of the Institute of Builders Merchants, argues the case for professional development.
Tell us about your personal journey in merchanting.
I began my career with Jewson as a trainee back in 1974. At the time I wasn't quite sure what career path I wanted to follow so I thought this role would suit me until I decided what I wanted to do with my life. I don't think I realised I was on the cusp of a long and very happy career within the world of Builders Merchants – this was the beginning of a 40 year career!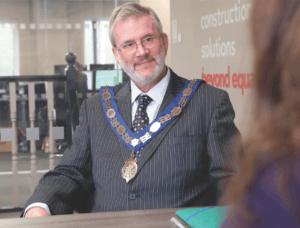 I was very lucky to receive first class training with Jewson and I went on to a company called Hall & Co. which was owned at the time by RMC and was later bought over by Wolseley. I progressed through the company to the role of Operations Director. I found it an excellent business and was very happy during my tenure there. My last move was to Bradford Building Supplies, where I held the role of Managing Director. I led the company through great expansion during my 15 years there, with the company doubling in size and opening several new branches during this time.
Changes within the company meant my role was made redundant and I moved into semi-retirement. I say 'semi-retirement' because with my role within the IoBM and my directorship of a local Academy for 11-18 year olds, I find my schedule as busy as ever!
What is the IoBM?
The IoBM was formed jointly by what is now the BMF and the Worshipful Company of Builders Merchants to provide an organisation that would have individual membership rather than corporate membership. The Institute has been around for 49 years so I have taken on the mantle at a busy time as we prepare for our 50th anniversary next year. Having recently taken on the role of President, I have 6-12 months to raise the profile and get the Institute moving forward so that we can celebrate our half centenary in style. We have a great team of governors that my predecessor Allan Durning had put together from his endless contacts, so we have the resource in place to do this. Now we just need to push forward with our plans and make sure we make the best of the Institute.
A primary focus will be to increase the membership so one of my immediate priorities is to spread the word and give people a reason to join. This organisation is about individual members and we have a variety of grades of membership from affiliate members, which is the entry point, all the way through to honorary fellows.
What are the benefits of membership from an individual's perspective?
The key to membership is the support that individual members receive through their training and development. The way that we go about this is to provide funding to enable them to undertake training and we will support their personal development. To provide this service, we work very closely with the BMF but we also engage with a number of the larger merchants in reviewing and endorsing their training, which allows them to have a more independent stance.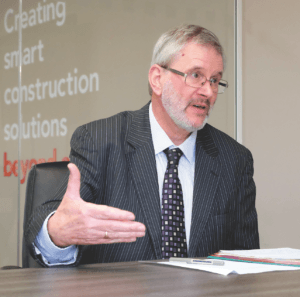 We work closely to ensure the training is complete and provide suggestions for additions and amendments and give an independent view that it is fit for purpose, which it usually is. We can recommend to individuals the training that might be appropriate and if funding is an issue we can help support that, either through our own charity fund or the Professional Development Fund which we have initiated, but also through closer liaison with other industry bodies.
There is a role for us to provide a conduit into these other organisations, which can open up opportunities for networking, mentoring and financial support. I think this provides some clarity across the industry as to what opportunities and support are available. Most merchant companies have a well-developed programme for supporting employees. However, on occasions where an employee might want to do something a bit extra, we can step in to support and also garner additional funding from other organisations.
The relationship between suppliers and merchants is indeed a very vital one in ensuring a burgeoning industry. What is the uptake on training at the moment?
We have received a number of applications and we have been able to approve grants to support partial funding of a variety of training programmes, including those provided by the BMF, the Chartered Institute of Marketing, and even an MSc. I am expecting that as we publicise these successes, this will generate additional interest and we will go from strength to strength.
Who is the Professional Development Fund aimed at?
The interesting thing is that it is open to members and non-members, both merchants and their suppliers. We are seeing an interest from non-members who are then continuing their engagement with us by applying for membership. This will enable us to continue to provide support and also support our aim of increasing membership and raising our profile.
What else is new with the IoBM?
Another thing we would like to provide is a networking facility. Linked closely with that, we are also looking to explore the opportunity of using the experience we have within the Institute to provide some one-to-one mentoring. We are hoping to get these up and running later this year. Our aim is to be at the point again where merchants recognise the value of the IoBM and are benefiting from this. I am very confident that we can do that.
The reason the Institute was set up was to increase the knowledge and professionalism within the merchant industry and in summary this continues to be the main objective. In doing so I believe we can embrace our 3 main challenges which are to raise the profile, increase membership and increase the resources available to the industry to support this development.