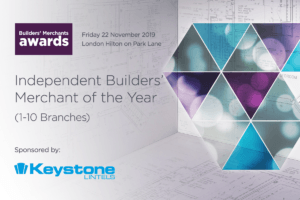 Keystone Lintels is delighted to once again sponsor the Award for Best Independent Merchant (1-10 branches) at the Builders' Merchant Awards 2019.
The Builders' Merchants Awards commends both the people and businesses who display excellence in every element of their business practice. From merchants adopting the latest technology, to those going above and beyond to support their local community, to team members who go that extra mile to deliver excellent customer service, the Builders' Merchants Awards celebrates the incredible achievements across the industry.
Derrick McFarland, Managing Director of Keystone Lintels commented "Keystone Lintels works very closely with our merchant partners to ensure our customers have an exceptional experience so we are delighted to sponsor an award that celebrates the industry's best and brightest companies who share our passion for providing excellent customer service."
"At Keystone we strive to provide our valued merchant partners with comprehensive support to ensure they can deliver the high level of service our customers have come to expect. Our team are always on hand to provide expert technical advice, a free scheduling service, site visits and extensive customer support making the strong partnership we share with our merchants a successful one."
The closing date for nominations is Friday 30th August with the winners being announced at the awards ceremony at London Hilton on Park Lane on Friday 22nd November.