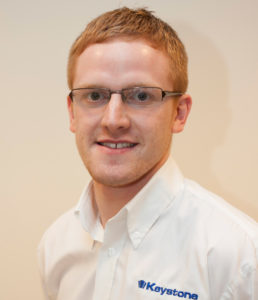 Andrew Gailey – Technical Engineer
BEng (Hons) Civil Engineering
How did you get into engineering?
Engineering was a career path I always wanted to follow from a young age. I saw Engineering as an opportunity to be involved in a creative and developing industry, and as an employment opportunity with a variety of different experiences.
There were a number of things which sparked my interest in Engineering and Construction. My Dad has worked within the building industry and the Roads Service for around 25 years, so he had a keen interest in Engineering and passed this onto me.
Also, when I was younger, my family built a new house, which I was continually involved with on site. Seeing the progress on site and at each stage of the development always caught my attention.
In the years leading up to deciding what to study at University, there was a lot of publicity and media coverage of the development of the new A4 road between Dungannon and Ballygawley in Co.Tyrone. My interest in this helped to assure me that Civil Engineering was the course I wanted to study, and that there would be a good chance of employment after graduation.
Keystone Lintels gave me the opportunity to develop my skills on a work placement year while at University and offered me a full time role after graduation. I have been working as a Technical Engineer since I graduated in 2012.
What does a typical working day look like for you?
Being a Technical Engineer within the Keystone Technical Department includes a range of tasks such as Technical Design, sales and preparation of production drawings.
On a daily basis, I design and compile schedules for a wide range of steel lintels and bespoke steelwork for residential, commercial and education projects. Loadings are assessed using Architects plans. Each item is then costed and ordered for delivery to site as and when required.
Compiling detailed production drawings is also a major part of the working day. These have to be extremely accurate to ensure the lintels are fabricated correctly. These are mainly drawn using AutoCAD software.
I continually liaise with home owners, builders, architects and structural engineers. This is to ensure that the specification is correct and meets the specific requirements of the project. This also needs to be achieved in a cost-effective manner.
I cover site visits in the northwest, north coast and Antrim region of Northern Ireland. This is for mainly bespoke lintels. One day a week, I will travel around this area meeting builders on site to discuss their projects requirements and doing a site survey.
What do you enjoy most about your job?
It know it sounds cliché, but each working day is different. The Keystone Technical office is a very busy department and I enjoy the process of taking a project from an enquiry stage through to production and implementation on site. Each project has its own specific requirements and therefore each job presents a new challenge. I enjoy finding bespoke solutions that help to achieve the client's end project goal.
It is good getting out on sites and liaising with builders compiling site surveys. This is a different challenge than the office environment. Also, when travelling around sites and in the region I cover, it is very satisfying to drive past completed projects knowing that you have played a part in it and how the finished project looks.
Any advice for aspiring engineers?
If given the opportunity to gain employment experience within an engineering environment, take it at any early stage of your career. I found this to be extremely beneficial in my development.
When in a working engineering environment ask questions to those with experience. This will take you out of your comfort zone and will enable you to continually develop and learn.
Make the most of any opportunity to further develop skills and knowledge, for example by taking additional CAD classes.
Enjoy the challenges and variety of job roles or projects you become involved with. It is very satisfying to see a project you have been involved with come to fruition.