Keystone's commitment to innovating the industry has been demonstrated once again by the introduction of an advanced version of its award winning Hi-therm Lintel: Hi-therm+.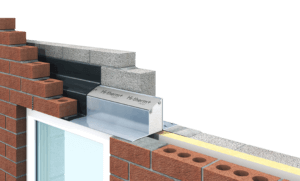 Keystone Group National Technical & Specification Manager Richard Kinloch explains how this new version secures all the benefits of the original and adds new features, widening its appeal. Hi-therm has won multiple awards for its innovation and made a significant impact on the energy efficiency of new homes. Now, its design has been upgraded to offer even greater practicality to builders and to make its benefits open to even more projects.
Richard explains:
"The need to address thermal bridging is becoming a mainstream requirement and is boosting the need for advanced thermally efficient lintels. Our R&D team has continued in its quest for perfection and the new re-designed Hi-therm+ Lintel helps meet the growing demand onsite for compliance with Part L 2013 regulations. The innovative design of the Hi-therm+ Lintel, while still utilising a rigid polymer thermal insulator as an effective thermal break, now incorporates a steel inner and external leaf. The product is as thermally efficient as the original but is now similar to a standard steel lintel for simplified installation."
The same but different
Hi-therm is a patented innovation based around introducing a polymer element into a steel lintel. This creates a powerful thermal break which dramatically reduces thermal bridging through the junction with beneficial cost and performance outcomes.
Previously the design utilised a polymer outer leaf as the thermal break. The new Hi-therm+ lintel features a structural polymer thermal break in the cavity linking an outer and inner steel leaf. The resulting improvement in Psi value is considerable with figures of between 0.03 – 0.06 W/m.k to be expected depending on the specific wall make up.
Richard explains the benefits of the new design:
"Buildability lies at the heart of Hi-therm's success because what the builder wants is a high performance lintel that can be handled and built on site in exactly the same way as standard lintels. Split lintels and other non-structural thermal breaks are not comparable in terms of buildablity and do not offer the simplicity of the Hi-therm lintel. Hi-therm+ takes practicality to a higher level again, so it will be even easier to handle on site than before. This is an increasingly important benefit and addresses the challenge of maintaining good detailing when skill levels are under pressure and introducing specialist techniques can be problematic."
For further information please email info@keystonelintelsuk.com or call the office 01283 200150.