Sun lounges and conservatories are often mistaken for one another. We've weighed up the differences in this short post to help you decide which one might be best for your project.
What is a Conservatory?
The definition of a conservatory is that it is a building with at least 50% side walls and 75% roof area with translucent glass or polycarbonate glazing. Most conservatories are hot in the summer and cold in the winter because of this amount of glazing.
If you replace the existing glazed roof with a fixed roof, you will no longer comply with the legal definition of a conservatory.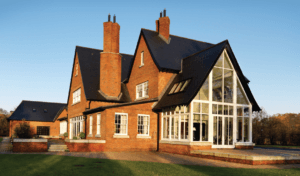 What is a Sun Lounge?
A sun lounge is a permanent structure that acts as a transitional space between the home and the garden, as opposed to a glazed add on. They offer plenty of light without being entirely made of glass — usually several elevations are fully or partly constructed of brick, blockwork or timber.
A sun lounge is an easy way to add space at low cost when building a new house, or extending a property. An extra room rather than an add-on, sun lounges are comfortable in all seasons due to less glazing than a conservatory.
Should I build a sun lounge or conservatory?
So which is the better option for you? A conservatory can be ideal in 3 out of 4 seasons without getting too cold. A sun lounge, on the other hand, has much better heat retention in the winter and will protect you from the summer sun.
Additionally, with a sun lounge, there is reduced noise associated with rainfall compared to a conservatory roof.
Sun lounges are also easy to construct using materials similar to your house, not to mention that the extra floor area can be included in the overall measurement of your house size, adding much more value to your home.
Planning Permission
Adding a conservatory or sun room to your house is considered to be permitted development, not needing an application for planning permission, subject to some limits and conditions listed below.
No more than half the area of land around the original house would be covered by additions or other buildings.
No extension forward of the principal elevation or side elevation fronting a highway.
No extension to be higher than the highest part of the roof.
Always check with your local authority whether any planning permission is required.
See more limits and conditions: https://www.planningportal.co.uk/info/200130/common_projects/10/conservatories
What can Keystone offer?
The construction of a sun lounge has been simplified by the introduction of a Keystone Lintel. It is a one piece unit which eliminates the need for local engineering and allows architects to design the sun lounge to suit the property cost effectively.
The Keystone Sun Lounge Lintel is designed and delivered ready for installing.
Find out more: https://keystonelintels.com/products/sun-lounge-lintels/