Slowing Q4 sales but third-best quarter in a record-breaking year
Total value sales data from Britain's Builders' Merchants shows Q4 2021 recorded the third-highest quarterly BMBI sales ever, rounding off a record-breaking year for merchants. However, with growth driven exclusively by pricing – not volume – the figures suggest the 2021 trade boom has inevitably slowed.
Quarter 4 2021 total value sales were 14.7% higher than Q4 2020, with no difference in trading days. All categories sold more. Timber & Joinery Products was out in front (+28.2%), follow by Landscaping (+14.4%) which recorded its highest quarterly sales of the year. Heavy Building Materials (+11.1%), Kitchens & Bathrooms (+10.0%) and Plumbing Heating & Electrical (+9.6%) grew more slowly. The weakest category was Workwear & Safetywear (+0.1%).
Comparing Q4 2021 with Q4 2019, a more normal pre-Covid year, total value sales were 21.0% higher this year, with the benefit of one more trading day. Nine of the twelve categories sold more, including Timber & Joinery Products (+44.4%) and Landscaping (+40.6%) which were well ahead of other categories. Like-for-like sales were up 18.9%.
Derrick Mc Farland BMBI Expert on Steel Lintels shares his insight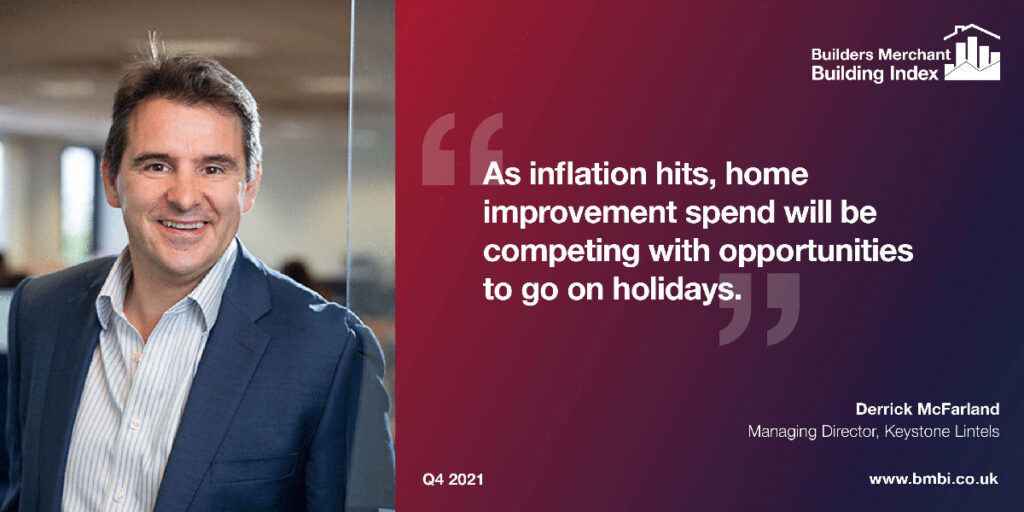 Q4 continued to display the same strong sales trend as we saw in the previous quarters of 2021, with sales volumes up circa 10% on the same period of 2020. However, the last couple of years have been impacted by the pandemic and Brexit, and in reality Q4 2021 is only a few percentage points up in volume terms on Q4 2018.
Looking ahead, will the intensity of 2021 continue this year or will 2022 be more of a 'levelling up' year in terms of demand, as the world returns to normality? It could go either way. The volume house builders are reporting several months of advanced sales already secured for 2022. But as inflation hits, home improvement spend will be competing with opportunities to go on holidays. The availability of labour to complete projects though, is most likely to be the deciding factor.
Allocation in the steel lintel market continues as further price increases are implemented in Q1, and lead times are longer than normal. Access to raw materials, at time of writing, has indeed improved throughout the supply chain – as predicted in our Q3 comment – and finished goods stock holding is getting back to normal levels too.
While things are looking up, my best advice to all merchants is to embrace the lead times and place orders in time. This will in turn help the OTIF (on time in full) and over the quarter this will continue to improve. I would also recommend keeping stock levels high as we head into the summer months.
We are actively building stocks in advance of Q3 2022 when we expect the traditional holiday season to impact labour availability. To support our stocking merchants, we are adding over 150 additional Stock Keeping Units (SKUs) to our stock range to build a greater depth and breadth of product offer. This focus on new products and energy saving will also cover wider cavity lintels and be duplicated in our Hi-therm+ range, which has grown at over 70% year on year through the pandemic years.
Our area sales managers will be communicating the final details once the new range has been fully completed and is ready to be implemented.