Bumper Q1 value sales but increase driven more by price inflation than volume
Total value sales data from Britain's Builders' Merchants shows Q1 2022 was a bumper quarter thanks in part to a record-breaking March, which clocked up the highest ever total sales in the history of the BMBI. However this was driven once again more by price inflation (+16.0%) than volume growth (+1.5%).
Quarter 1 2022 total value sales were 17.7% higher than Q1 2021, with no difference in trading days. All bar one categories sold more. Renewables & Water Saving (+29.3%) did best, followed by Kitchens & Bathrooms (+26.3%) which also recorded its best-ever quarterly sales. Timber & Joinery Products (+21.4%) and Heavy Building Materials (+17.4% in value) grew more slowly while its volume is up by 5.0%. Plumbing, Heating & Electrical (+16.4%) and Miscellaneous (+12.8%) both had their best-ever quarterly sales. Workwear & Safety wear (-0.1%) was flat.
Derrick McFarland, Managing Director Keystone Lintels is BMBI's Expert for Steel Lintels.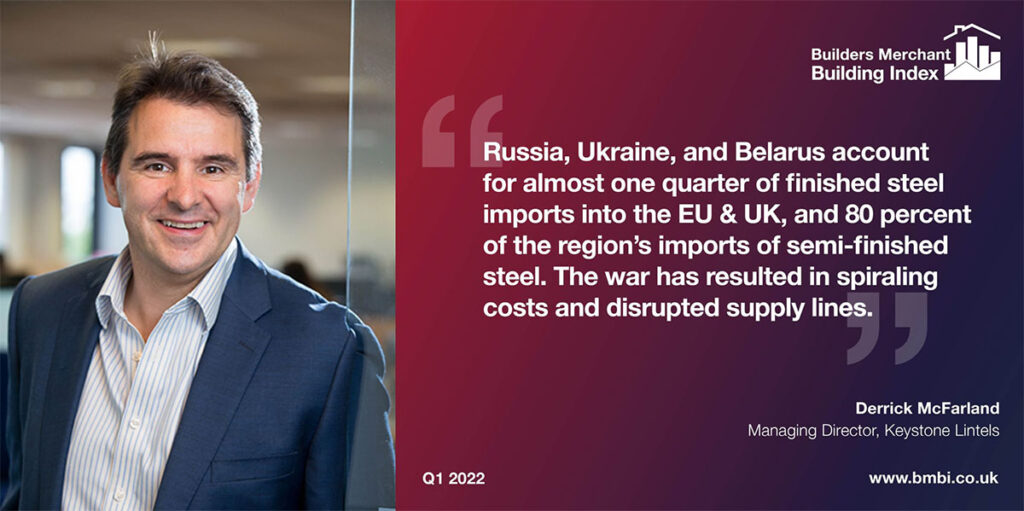 After the madness of the last couple of years, the first quarter of 2022 seemed to be getting back to what one would describe as more normal daily volumes. Merchants, distributors and building sites all reported good stocks, and we too report good stock levels. In sales volume, Q1 2022 was very similar to the same period in 2021.
Demand from the construction sector is relatively good, particularly the new build sector, where, reportedly, many houses have been forward sold. However, growth this year may be curtailed by the availability of labour, and the pressure of building material inflation has to be a concern for all – specifically the RMI market.
While it has been a positive start to the year, global supply chains were still reeling from the effects of the pandemic, and Russia's invasion of Ukraine has added a whole new set of problems. The war and the sanctions applied against Russia and Belarus have further choked the flow of vital resources for steel supply and manufacturing.
Russia, Ukraine, and Belarus account for almost one quarter of finished steel imports into the EU & UK, and 80 percent of the region's imports of semi-finished steel. The war has resulted in spiralling costs and disrupted supply lines. Prior to Russia's invasion, steel producers were already lifting prices due to higher costs, particularly for energy.
Recent lockdowns in Shanghai, the world's largest container port, and US ports continually plagued by industrial labour disputes, are hitting global trade, with further disruption to maritime shipping expected for up to 12 months.
In 2021 we experienced the biggest impact on our material availability ever. However, even with the disruption of the war, availability so far in 2022 is back to what we'd expect in more normal times, albeit at significantly higher prices. Lead times are still extended, but the supply is currently smoother.
The only clear good news is that the new building regulations are imminent, bringing with it a chance for energy saving products to shine.