Ahead of International Womens Day, we look at what the construction industry is doing to attract more women to a career in construction. Pippa Latham, Master of the Worshipful Company of Builders Merchants and Sophie Turner, Founder of Yes She Can explain the great benefits of creating a diverse workforce.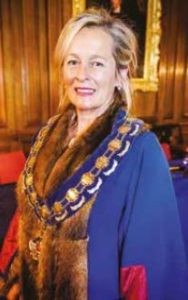 Pippa Latham, Master Worshipful Company of Builders' Merchants (WCoBM)
Tell me a bit about yourself?
I am Pippa Latham, that's my maiden name; I'm an 8th generation timber trader. My family business is James Latham Plc and I worked there for 25 years in various roles, including company secretary and then later on as a Non-Executive Director. I got engaged in WCoBM after we sold the builders' merchant business to Grafton in 1999 and they were involved in the company. I am now Master.
Tell me a bit about the Worshipful Company of Builders' Merchants and what it does?
Worshipful Company of Builders' Merchants was formed in 1961, by members of the builders' merchants industry who were in senior positions. It's the 88th of 110 livery companies in the City of London and what they call a 'modern livery company' as opposed to one of the traditional livery companies which formed anything from about 1300 onwards and those would include people like the Goldsmiths or the Fishmongers. Our Freemen and Liverymen are working in our trade and we define that as merchants, manufacturers, wholesalers, distributors, buying groups and anyone who is really related to the trade. Membership to WCoBM is by invitation only, and we currently have 210 active Liverymen and 25 Freemen.
We have effectively got four main objectives, these are:
1) Raise the profile of builders' merchants within the City
2) Support charitable endeavours and raise money for worthy charities and causes
3) Promote training and education for builders' merchants
4) Support the Lord Mayor of London and any charitable initiatives
We also work with BMF, CITB and Construction Youth Trust (CYT), as well as Livery Schools Link, and this is all again, raising charitable money, to support careers development.
What do you do to promote training and education for builders' merchants?
We have a programme 'Build A Career Without Limits' where we support training and education and apprenticeships in the industry. We launched the campaign to support developing young people in the industry, both through working with schools and the City Livery Schools Link and telling them about opportunities in the builders' merchants and manufacturing area. We are working with the Rainy Day Trust and providing bursaries up to £2000 each towards any training courses in the industry. These are generally for young people but it can be for people who want to retrain within the organisation they work, so these bursaries are there to support people who might need it.
What advice would you give to young females starting their careers?
Set your objectives, if you fail try and try again, join the construction trade because it's very interesting, great career, great people, and great products. I think just stick to your guns and your ambitions. Do you think that diversity can help an organisation? Any organisation benefits from having a wide range of people of all diverse backgrounds and skills. However I think the argument is the same for anyone, that if you focus on the right people and on the career paths and people's attitudes, that actually, the business will be good whatever its structure is and hopefully it will be a diverse area for people to work within.
What advice would you give to women considering a career in construction?
I think I would just be determined, set out your goals and work out what skills and training you need to undertake and get on with them and push forward and always seek to take the next job.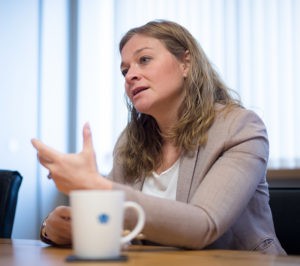 Sophie Turner,  Founder Yes She Can
Tell us a bit about #YesSheCan and why this started?
#YesSheCan is a relatively new venture aimed at supporting women to break their own career glass ceiling. Whether that is to go for a promotion, change their career or to think about moving industries, with a particular focus on industries that are heavily male dominated, such as the construction industry. We wanted to bring these women some real life role models to say 'look, these women are already doing it and they're doing a fantastic job and yes they face barriers but they've overcome them which proves you can to!
Our second aim is to work with businesses to strategically influence their gender balance to support long term culture change. We have a whole host of things to support this from actual gender diversity consultation, training and workshops, support with recruitment and various different internal engagement initiatives all geared up to support businesses on their gender diversity journey. There will be some quick wins but in order to attain true gender diversity it is a longer term process.
What are the benefits to businesses in joining #YesSheCan?
Well it is that support to get that better gender balance, there's a huge amount of statistics and research papers about businesses who have a greater balance or certainly are led by women, show an increase in revenue, engagement, people within the recruitment process and an increase in reputation – and that's a fact. We can support businesses to achieve this. In the short term we can support you to recruit from a pool of people you won't normally have access to, we can increase your brand awareness with a group of people you won't normally have access to and we can support you if you have got training needs. In the long term we can work with you to strategically influence your gender balance.
How do you think diversity helps organisations?
For many, the motivation to achieve gender balance is born out of it being the right thing to do, but there are other benefits too. Ultimately it can have a positive effect on the financials but it is more than that. With diversity you can increase engagement and motivation, foster a culture of openness and creativity and win the war for talent. All of these factors can differentiate you from your competitors.
What advice would you give to women who are considering a career in construction?
The construction industry is full of amazing companies and fantastic roles, there is something to suit everyone. If you want to be a CEO of a lintel manufacturer, then you can absolutely do that, if you want to be Regional Sales Manager then go for it! Its important to remember that most organizations don't have gender balance, but that doesn't mean we shouldn't be part of their journey. Be resilient, work hard and network. Be a trail blazer. There are some fantastic women in the construction industry who are doing it and doing it really successfully and they proved why they should work in this industry because they know their stuff and that's really important.
What's next for #YesSheCan?
In the short term, we're continuing to connect with organisations to show that we can help with their gender diversity. We worked with the organisers of the UK Construction Week who developed a fantastic "High Performance Culture" training event. We are gathering momentum and pushing the positive message about gender diversity, it's not about men vs women but working together to ensure everyone has access to the same opportunities. We have plans to develop school resources and we continue to promote more women on our social media channels. Ultimately we will continue to make a positive difference.