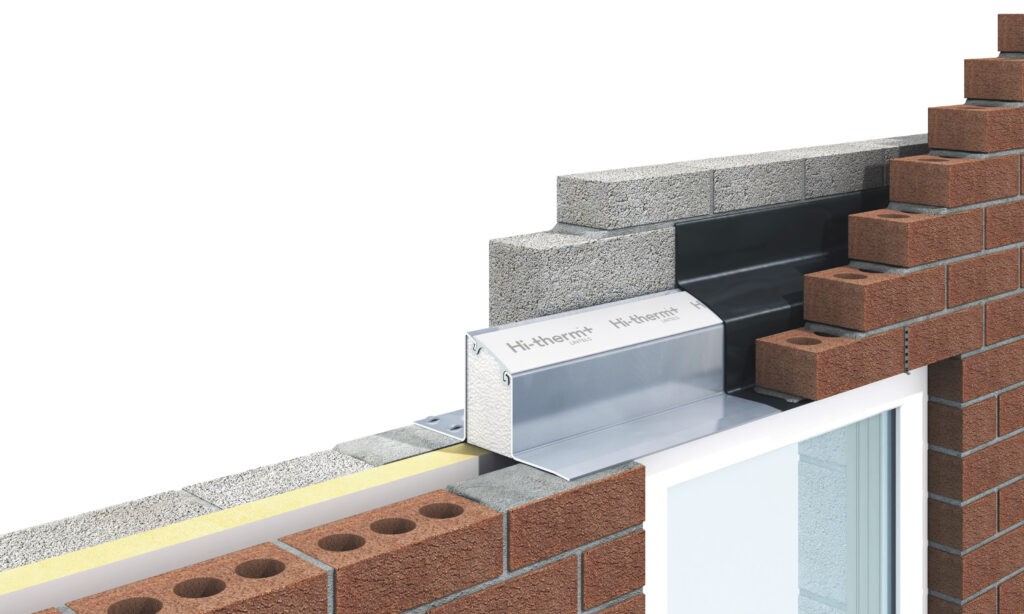 With thermal bridging responsible for up to 30% of a home's heat loss, which thermally-efficient solutions are available to the specifier in terms of a building's lintel specification? Keystone Lintels provides insight into the fabric-first approach to design, and how the one-piece thermally-efficient Hi-therm lintel can significantly improve SAP ratings, eliminate the need for costly renewable technologies and create smaller energy bills for the homeowner.
The fabric first approach to building design can maximise the energy performance of the structure itself and require little or no maintenance. When the components and materials within the fabric of a building are installed correctly, it's considered to be more sustainable than installing energy saving technology or expensive renewables. The better or lower the U-values in walls, floors and roofs, the less heat is lost, resulting in enhanced thermal performance. This in turn will help to deliver the standards required and reduce heating costs.
Detailing is key
Taking time for the details and optimising build quality will also make a difference in the fabric-first approach. For example, ensuring junctions are appropriately designed and constructed, as this makes a significant contribution to reducing heat loss. In terms of lintels, a thermal bridge occurs when a lintel spans between the inner and outer leaf of a cavity wall, allowing heat loss which ultimately leads to a drop in internal temperature and an increased demand for heating. This can increase the risk of surface condensation and mould growth.
The other concern in terms of thermal bridging is that we are neither building consistently what we design, nor detailing the right products in the right places. There are also issues with site skills and workmanship; when you fail to build correctly it undermines the good work carried out in the first instance. This can lead to a performance gap between as-designed and as-built building performance. It's why these weak spots can significantly impact a building's heat loss and have a detrimental effect on the overall fabric efficiency of the external wall.
Thermal continuity
With many two-piece lintels, there is an issue with a lack of continuity of insulation. To ensure the insulation is continued all the way down to the cavity closer, it is necessary to cut a piece of insulation to fit beneath the DPC membrane. This detailing is difficult and cumbersome on site and quality control issues can occur. There are solutions to address this. For instance, the Hi-therm+ Lintel is prefabricated and fitted with PIR insulation, ensuring insulation continuity and eradicating poor detailing on site.
Hi-therm+ has set a new standard for thermal efficiency in steel lintels. It incorporates a thermal break and is up to five times more thermally efficient than a standard steel lintel. Hi-therm+ is an extremely cost-effective solution, particularly if we look beyond the unit price, as getting the fabric right will save energy throughout the entire lifespan of the house.
The Hi-therm+ Lintel has made a significant impact on the thermal efficiency of homes and is specified on many housebuilder projects around the UK due to its low cost and improved performance in lowering carbon emissions within the Standard Assessment Procedure (SAP).
The current energy crisis means households are faced with eye-watering gas and electric bills for the long term. This is why making homes more energy efficient through a fabric-first approach will go some way to locking in savings for the lifetime of a building, reducing energy costs and achieving our climate change targets. Now is the time to start creating high performance building envelopes through the specification of materials and components which deliver where others cannot – as this can be the difference between a sustainable home and one that is energy inefficient.