This month, Keystone Group, the UK's largest steel lintel manufacturer and Europe's fastest growing roof window manufacturer, is to hit the road to share ideas and innovations that are core to supporting fabric first construction and achieving net zero.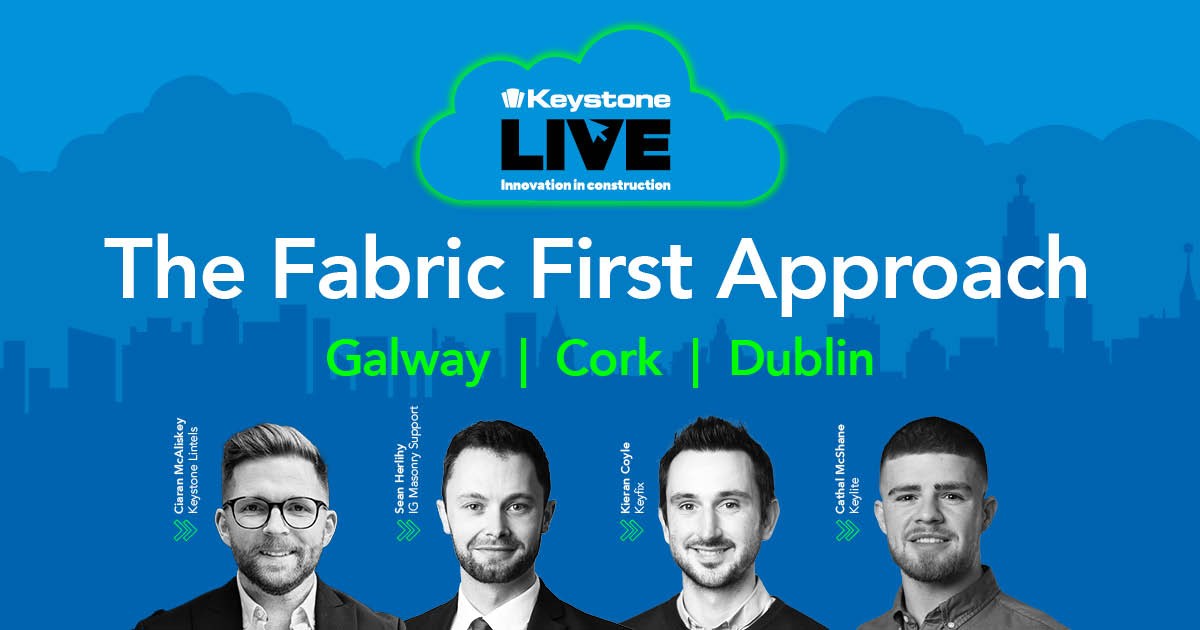 'Keystone Live' will visit venues in three cities across Ireland. It features a series of free, insightful live webinar debates as part of a four-hour CPD experience. Leading discussions will be a stellar cast of industry speakers with the passion and knowhow to deliver thought-provoking views on topics including offsite construction, provision of net zero housing, designing with non-combustible and how the industry is tackling climate change.
Ciaran McAliskey, Keystone's Specification Manager, said: "We cannot wait to take the Keystone Live show on the road. For audiences, it's not only a chance to learn about products that are designed to facilitate a low carbon approach to construction, it will look at behaviours the industry needs to adopt to achieve net zero. Therefore, whatever your supply chain sector, this is an event not to be missed."
Keystone Live is a fact-packed morning-only event. Each attendee will receive a certificate upon completing the programme that contains an in-depth reveal of Keystone Group products specifically developed with net zero and building regulation compliance in mind. They include a look at the Keystone Lintels thermally efficient Hi-therm Lintel and its low psi value, IG Masonry Support's A1 Fire Rated Brick Slip System, Keyfix's Non-Combustible Cavity Tray systems and also the patented Thermal Collar on the Keylite Roof Window, bringing events to a fitting conclusion.
Tea, coffee and other light refreshments will be available throughout the morning, which will be followed by a leisurely network lunch where d the conversational cut-and-thrust will continue.
Ciaran McAliskey continued: "At Keystone Group we are always looking at ways to manufacture construction solutions that are smarter and more effective than others on the market. This, coupled with the need to increase awareness of how the drive for net zero will inevitably change our approach to construction – particularly in respect of fabric first – is why Keystone Live is hallmarked as a premier industry gathering."
Keystone Live takes place between 9am and 1.30pm on the following dates:
Galway – Wednesday, 22ndNovember – Maldron Hotel, Sand Road
Cork – Thursday, 23rdNovember – Maldron Hotel, South Mall
Dublin – Tuesday, 28thNovember – Camden Court Hotel
Spaces are limited, so do not delay in registering your attendance here: https://keystonegroup.co.uk/the-fabric-first-approach-keystone-live-event
Please note, the first episode of Keystone Group's recently launched podcast channel; 'The Keystone Live Podcast', with new releases each month, is now available. Click here to follow the channel and listen now!