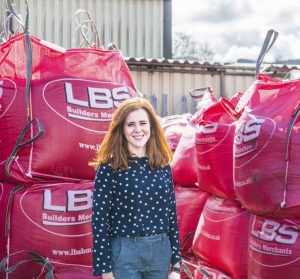 Not many merchants in the UK address their customers in two languages but Rachel Davies, Director, at LBS is proving that serving the local market is no barrier to setting industry standards.
Tell us a bit about LBS and how you got involved in the business?
I'm the fourth generation of the family business established in 1931. I joined LBS in January 2017 following University and five years working in London in finance, which I enjoyed. However, I was attracted home by what I saw in the merchant business; everyone I spoke to that worked here just loved their job, talked about how interesting it was and the varied range of areas they got involved with.
The quality of life in South Wales attracted me also, it's where I'm from and as a first language Welsh speaker coming home was exciting for me. I am very proud to be part of the business, alongside my brother, Ben. We've seen it grow from one branch, to where it is now: 25 branches across South Wales and over 350 staff. It's now a big animal, but maintaining a family ethos and core values is really important not only to us, but to all of our employees.
What makes an independent merchant tick?
Without doubt, I believe that having the right people and relationships is critical to the business, not only those employed by us but also with regards to our suppliers. We need good people who can influence the market together.
Keystone is a great example of this because they make themselves so visible with our guys in the branch and they give us a reason to sell their products. Our staff are passionate about our business and the big thing that strikes us about Keystone is their passion, so that aligns perfectly with ours.
Is supplier partnership something you value?
A partnership needs flexibility and proactivity – it's supporting us and wanting to work with us, talking to our branch managers, talking to the guys and girls on the ground who are selling the products day in, day out.
They're the things that make the biggest differences.
Keystone is an important partner for us, they do all the things I've just mentioned, they know our market well and are creating demand and growing sales for us. Their marketing campaigns also really stand out from the crowd, so when the team attends our Trade Shows and Open Days their stand is often one of the busiest, generating a lot of interest with customers.
Keystone also hosted our entire team of Branch Managers for an away day and a night at Swadlincote recently. We were fully trained on all their products and went on a factory tour. It was great to have the two teams working together and exchanging views and ideas, this is when partnership really adds value.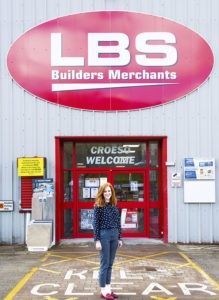 How important is training for LBS?
It's been one of our key priorities and I have established a Learning & Development team to take forward our investment in people. In 2018 we rolled out an annual review process for every single member of staff, capturing everyone's training needs and career aspirations. This feedback allows us to now have a more considered approach to Learning & Development so we can offer people the training they need, and drive their careers to where they want to be.
We also now have a bespoke LBS training prospectus with over 40 different career paths on offer. A lot of people still want to start in the branch and work their way up to be Branch Manager and that's fantastic – but others maybe want to focus on Sales or actually look at a move into Marketing or Buying or Stock Management. We can now offer a plan for each of these different paths.
What does winning awards mean to you, LBS has won a lot?
The company as a whole really enjoys the awards season and loves hearing about what we've won, because it's their award. That's what's great about winning it, it's not just for those of us who are lucky enough to go to the ceremonies, it's actually when we come back into branch and everyone feels proud and energised.
We've also won a few personal awards, which is great recognition for those individuals. These include Ben Davies winning 'Branch Manager of the Year', Alun Thomas winning 'Trainee of the Year' and Dai Thomas winning 'Achiever of the Year' and 'Industry Personality of the Year' in recent events. Every year we go to these awards and say "right, surely not this year, we can't win again" but we have been lucky every year since I've been here!
You won an award for e-commerce, how important is online selling to your business?
It's critical to the business moving forward. We are a very traditional industry compared to others, but, there's no doubt that the new generation is driven by smartphones and they are demanding a higher and quicker level of service in terms of click and collect and online trading.
We have an online business which has been very successful for us, now based in a dedicated unit in Port Talbot on the M4 corridor. Our Manager there, Greg, sees no ceiling to growth, and the Board is focused on supporting this part of the business. It's not a question of "if", but "when" we do more business online. Of course, there are challenges such as pricing, so lots to think about, but we've got a working group looking at it and it's something that we are driving forward as another important route to market.
However, face-to-face interaction will continue to be hugely important for our customers. We're a people business and we also have a Welsh speaking aspect. Our customers expect to go into an LBS branch or call our Accounts team and be able to speak Welsh. We're proud to be able to provide that service to our customers.