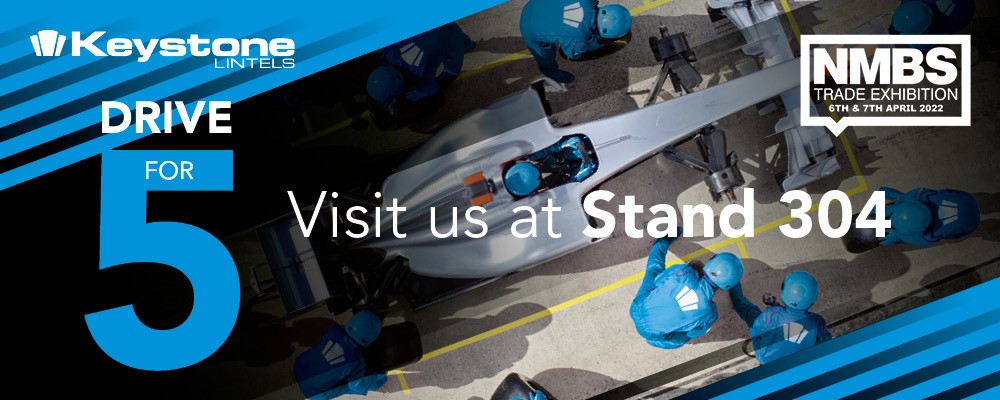 Keystone Lintels, the UK's leading manufacturer of steel lintels, will be attending the NMBS Exhibition 2022, which will provide the perfect setting to showcase the company's innovative and growing product portfolio and promote its Drive for Five merchant initiative.
As the biggest event of its kind in the builder's merchant calendar, the NMBS Exhibition on 6th – 7th April at Coventry's CBS Arena will see Keystone Lintels at stand 304 demonstrating its breadth of range and value-added products including Hi-therm+ Lintels, Special Lintels and Brick Slip Feature Lintels. Rolled out across builder's merchants, the Drive for Five initiative will give sellers the opportunity to win new orders and boost turnover.
The Keystone sales and technical team will be available to promote the benefits of Hi-Therm+ and explain how encouraging customers to switch will enable merchants to gain more margin. They will also gain first-hand the opportunities for Special and Brick Slip Feature Lintels and how offsite solutions can also provide additional margin for the merchant.
Commenting on the upcoming 2022 show, Chris Hemmington Green, Keystone Lintels Sales Director said: "Keystone is committed to supporting sales drives and helping independent merchants add value in this challenging marketplace. The NMBS show is the ideal platform for demonstrating our ever-growing range of products that present solutions to the customer whilst increasing profitability for the merchant."
The Drive for Five initiative will see Keystone Lintels' dynamic sales teams follow up on leads provided by their merchant customers. Once ready to convert to an order, the details will be passed back to the merchant, resulting in a direct sale for that branch.
Keystone is the largest supplier of steel lintels in the UK and Ireland and carries more stock than any of its rivals. The company also supports merchants with innovative ranges of products which solve problems for the builder and deliver more opportunity, added value and margin for merchants.
To find out more, visit Keystone Lintels at the NMBS Show stand 304.